Difference between revisions of "Artillery"
Jump to navigation
Jump to search
---
Revision as of 15:26, 20 April 2006
Home > Artillery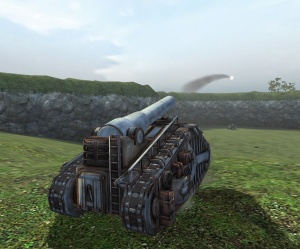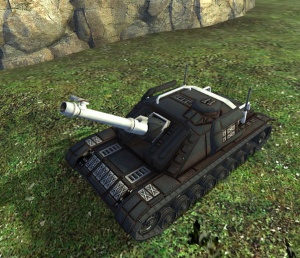 The Artillery tank is designed for the role of striking an enemy position from great distances without fear of direct and immediate retaliation. The artillery tank features a main cannon capable of sending a mortar based round great distances. It can be customized for a small defensive weapon such as anti-infantry gun, but it is very susceptible to all forms of anti-tank weaponry. It should be utilized from a defensive position and in multiples for maximum effect.
Stats
Seats: 1
Non-Equipped Cost: 100
Non-Equipped Weight: 500/1000
Heat Capacity: 100
Armor Plates
Front: 2
Sides: 2
Back: 2
Weapon Slots
| | |
| --- | --- |
| | Tip: If you're a Grenadier with the "Artillery Feedback" Skill, you can see where your fired shots have landed by looking for a white diamond on the minimap. |