Vehicle Factory: Difference between revisions
Jump to navigation
Jump to search
mNo edit summary

Line 21:
Line 21:

*Northern Heavy Tank  (Northern)   

*Northern Heavy Tank  (Northern)   

*Artillery Tank  (Imperial/Northern)   

*Artillery Tank  (Imperial/Northern)   

=Tips=

*If your team is short on resources, the Commander can disable vehicle construction by players to save on resources. You can still request a vehicle by asking your Commander. The commander does this through the "Factory" tab.

*Placing mines in an enemy vehicle factory will destroy vehicles before the owner knows what hit them.

*Placing mines in your vehicle factory will prevent enemy vehicles driving in and blocking vehicle creation.

*If your Vehicle Factory is sabotaged, your vehicle will spawn at only 50% of it's maximum health. Make sure your VF is healthy before constructing tanks!






=Stats=

=Stats=

Line 34:
Line 28:

*Weapons that cannot harm vehicles are not able to harm this building.

*Weapons that cannot harm vehicles are not able to harm this building.










[[Category:Structures|Vehicle Factory]]

[[Category:Structures|Vehicle Factory]]
---
Revision as of 15:38, 5 September 2013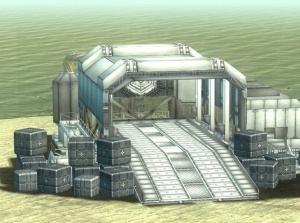 Function
The vehicle factory produces all the land vehicles for a team. Inside is a console which can be used by players to customize and order the production of vehicles, usable via the Use key (defaults to e). You may also use the v key to construct a vehicle from anywhere inside the factory, removing the need to be at the console. After building a vehicle you are immediately transported into its driver seat.
Available vehicles
Starting Vehicles
Jeep (Imperial/Northern)
APC (Imperial/Northern)
Light Tank (Northern)
AFV (Imperial)
Vehicles that must be researched
Medium Tank (Northern)
Imperial Tank (Imperial)
Imperial Heavy Tank (Imperial)
Northern Heavy Tank (Northern)
Artillery Tank (Imperial/Northern)
Stats
Cost : 400
Health when initially built : 50
Health : 250
Weapons that cannot harm vehicles are not able to harm this building.
Tips
If your team is short on resources, the Commander can disable vehicle construction by players to save on resources. You can still request a vehicle by asking your Commander. The commander does this through the "Factory" tab.
Placing mines in an enemy vehicle factory will destroy vehicles before the owner knows what hit them.
Placing mines in your vehicle factory will prevent enemy vehicles driving in and blocking vehicle creation.
If your Vehicle Factory is sabotaged, your vehicle will spawn at only 50% of it's maximum health. Make sure your VF is healthy before constructing tanks!